A reusable water bottle from FLASKE. Sustainable and unique
Use less plastic by not having to buy disposable bottles in the house anymore. An eye-catching FLASKE drinking bottle will help you drink more water and become more sustainable at the same time. Can be used for cold and hot drinks and unique because of the beautiful prints!
Drinking bottles that are sustainable
In fact, I have been drinking from refillable drinking bottles for years. I really got this from my parents, but I must say that the bottles nowadays have become better than the water bottles I used to use in the past.
A bottle that does not leak
Too often I had a drinking bottle that leaked anyway. And for myself, I do make sure that when I take my water bottle with me, I put it upright. But my kids don't think about that and how many times have a notebook or gym gear gotten wet because the water bottle they took to school had leaked.
New school year new water bottle
Just a few more weeks of school and the summer vacations will begin, what this will bring us is still completely unknown. Can we go abroad or stay in the Netherlands? What is certain is that our oldest son will go to high school after the summer vacations.
This calls for a new lunch box and water bottle, because after all those years of elementary school, it's time for something new. Since he has to carry a laptop in his bag every day, among other things, I wanted to be sure that his new water bottle would not leak.
Sustainable water bottle from FLASKE
And that is how I ended up at FLASKE. FLASKE is known for their durable and unique drinking bottles. The message of FLASKE appeals to me; Live more durable for less!
The bottles can be used for both hot and cold drinks, are stainless steel and 100% leak and condensation free.
Large choice of color and print
The bottle not only looks nice because of the fantastic colors, it also drinks very well because of the narrow opening. The bottle opening is wide enough for ice cubes and easy refilling, but narrow enough to drink without spilling. Moreover, the FLASKE water bottle is designed to keep drinks hot for up to 12 hours and cold for up to 24 hours.
So you can use this reusable water bottle all year round.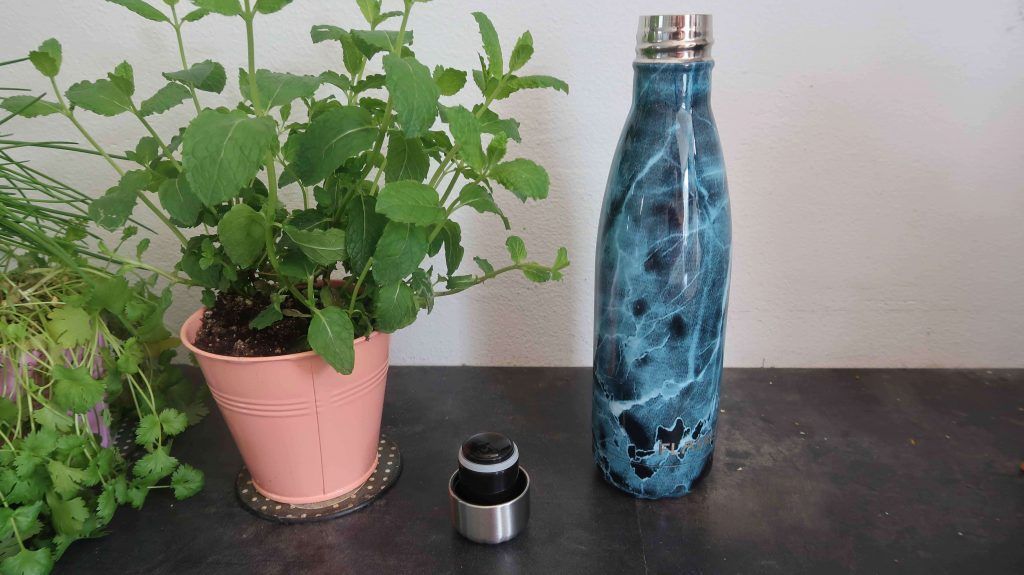 A stainless steel drinking bottle
This stainless steel FLASKE drinking bottle makes it easy to take your water bottle with you every day, to school, work, sports or travel. In addition, you immediately help save the planet, by leaving less plastic waste behind. This drinking bottle can be ordered in many colors and with different prints, as well as in different sizes.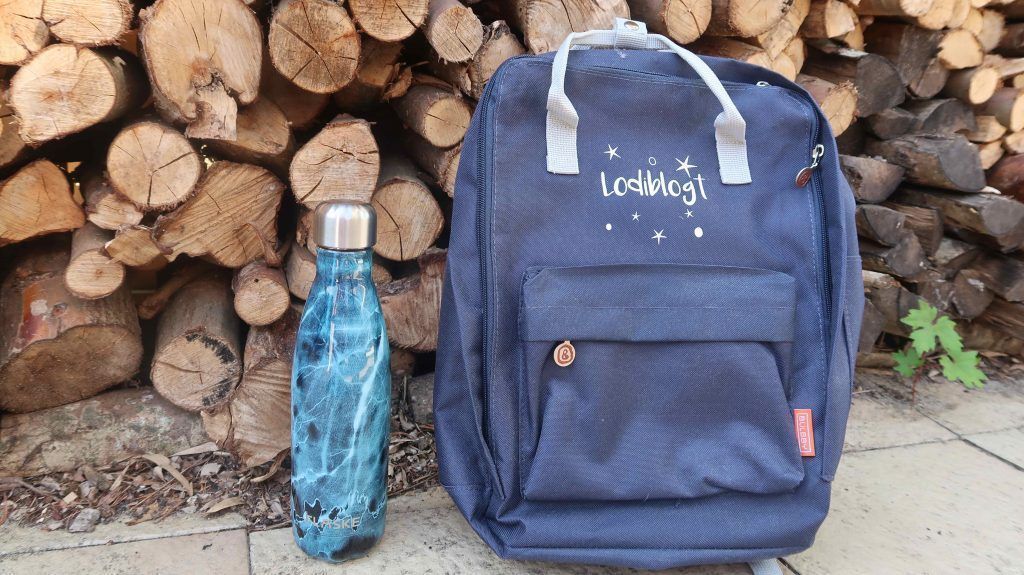 Stop the use of plastic
Do you want to show everyone that you are done with single-use plastic?? You can also make your drinking bottle unique, for yourself or your company. Or how about a (coffee) cup or food-pot for on the go?
Not only are the colors fantastic and unique, you can make the bottles or cups even more unique by having a name engraved on them.
Sustainability has never looked so good!
Instilling good behavior in my children
I am really not someone who thinks I can save the world on my own, but I do like to contribute to a better environment. This way I no longer use shampoo bottles but a shampoo bar and we separate our waste. When I see that we still have so much plastic waste, I am glad that all four of us have our own drinking bottle that we use every day.
Imagine if we didn't have this, what a lot of plastic would go away.

photo's lodiblogt/ disclaimer
The backpack in the picture is from Bulbby, where you can find personalized clothing, bags and accessories!