How to barbecue all year round tips
Barbecuing only for the summer? No, I don't. Barbecuing can be done all year round.
Warm coat and grill away. But how to enjoy barbecue all year round? With these tips you will succeed!
Barbecuing is for the whole year.
Your barbecue doesn't have to spend the winter. Lighting it during the cold months is also a good idea. Because the barbecue is something for the whole year.
It is fine to light when you are having a party, fire basket there, hot drinks, lights on and for dessert marshmallows over the bbq.
Here's what to look out for if you want to barbecue all year round
Barbecuing is for many people really something for the summer, that's when we get it out, look for the bbq stuff and buy bbq meat. Yet you do not have to wait for the first rays of sunshine. Barbecuing is always possible, all year round!
The right bbq
But which barbecue suits you and meets your needs?? Do you have a spacious garden? A balcony? Which barbecue gives you the most convenience. Take a look at Kamado Express.
Kamado Express is official dealer of the A-brands: Big Green Egg, Kamado Joe -also called 'the Ferrari among kamados'-, The Bastard and Primo Grills. All four of these brands have barbecues in different sizes, with a choice of: extra (heat resistant) side tables, wheels, an undercarriage or a handler where you can easily move the bbq around.
A lid for extra ease of use
All these barbecues are with lids and that's also what you should buy if you want to use it all year round. If you do not have a lid, the temperature differences are too big. After all, you don't want the bottom to be well done and the top still cold.
The ceramic barbecues you find at Kamado Express retain heat for a long time. And another advantage, besides grilling you can bake, cook or smoke on these.
Where to place it?
If you're going to barbecue and it's still cold outside, make sure you're somewhat sheltered. Not only good for you, but your bbq will burn better under a roof or a wind shelter in the garden or on the balcony.
Expand
If you want to barbecue more often now, you might want to look at add-ons you can buy. Then consider a pizza stone. On all Kamado barbecues you can bake pizza, and with a pizza stone this is super easy.
But also an aspook, with which you can properly distribute the charcoal, a thermometer or a cover can be found on the site.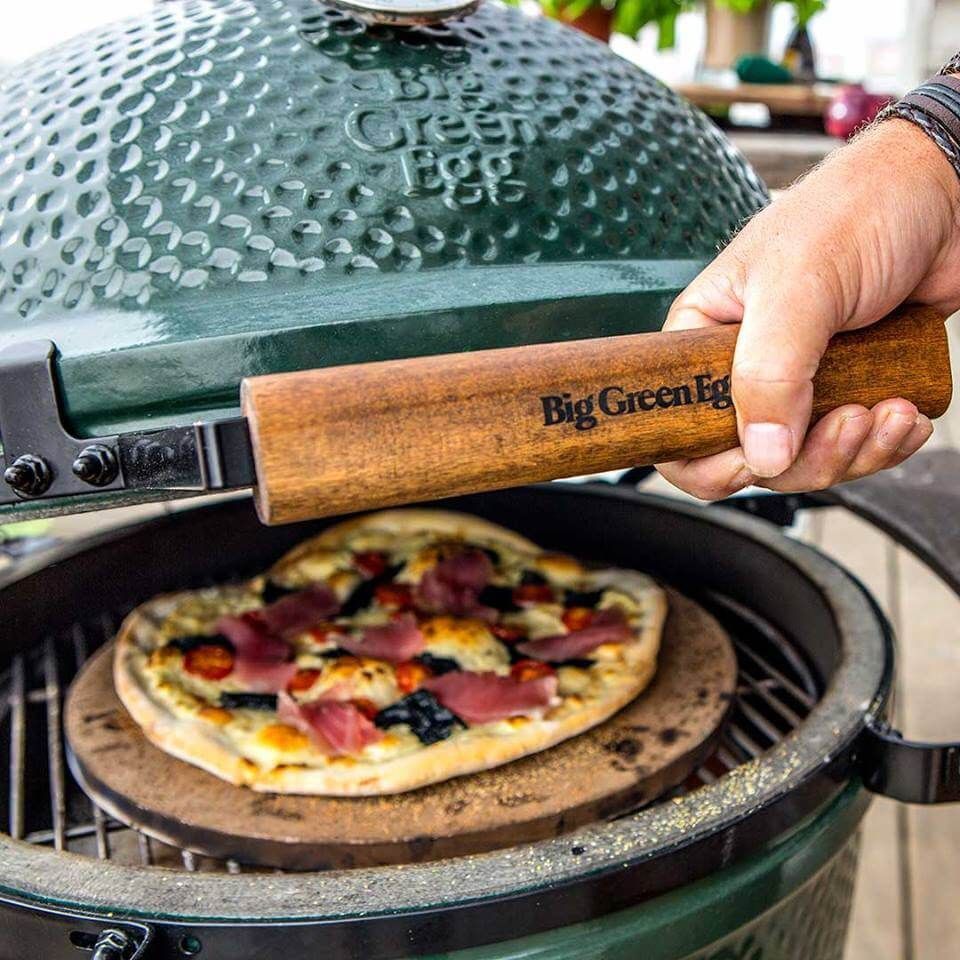 The best recipes
At Kamado Express you can buy much more than barbecues. Think of all kinds of accessories as described above. But you can also find in the webshop: sauces, rubs, salt stones, smoking wood, BBQ cookbooks and much more.
And if you have no cooking inspiration? Then you can make one of the delicious recipes that you can also find on the site.
For us, this is really a summer activity, but why?? I will definitely introduce this more often outside the bbq season and you? Do you ever turn it on out of season?