Review: Luigi's Mansion 3 Nintendo Switch
Nintendo Switch regularly releases new games and on October 31 (Halloween) Luigi's Mansion 3 came out. Surely this was no coincidence. This game revolves around the scaredy-cat Luigi who tries to save Mario and his friends in a witty mission.
Is this game spooky enough for the boys?
Play together on Nintendo Switch
The boys are allowed to play games on the Nintendo Switch every evening at five o'clock and the eldest wants to play Fortnite. The games starring Mario and his friends are still the most popular at home. Yoshi's crafted World, Super Smash Bros ultimate or Super Mario Party are widely played here.
Not just the kids on the Nintendo Switch
But not only the boys use the Nintendo Switch. I exercise here. For example, I have Fitness Boxing and recently the Ring Fit Adventure.
Both are ideal for exercising at home, the latter being completely doable with my knee injury.
How is Luigi's Mansion 3
And then there was Luigi's Mansion 3. A game that came out on October 31. In Luigi's Mansion 3, the boys can play alone or together. The story revolves around the scaredy-cat Luigi who tries to save Mario and his friends in a witty mission. They can scour every quirky floor of the creepy hotel, battling mischievous ghosts and solving paranormal puzzles. The game starts when Luigi is offered an invitation to stay in a luxury hotel with Mario and co, an offer Luigi cannot pass up.
His dream quickly turns into a nightmare when ghosts wreak havoc. Mario and friends are trapped in paintings by royal ghost King Boo. Luigi must once again put his fear aside to thwart King Boo's evil plans and save his friends.
Fortunately, he can once again count on the help of his good old friend Professor K. Wibus, who again has the necessary novelties ready.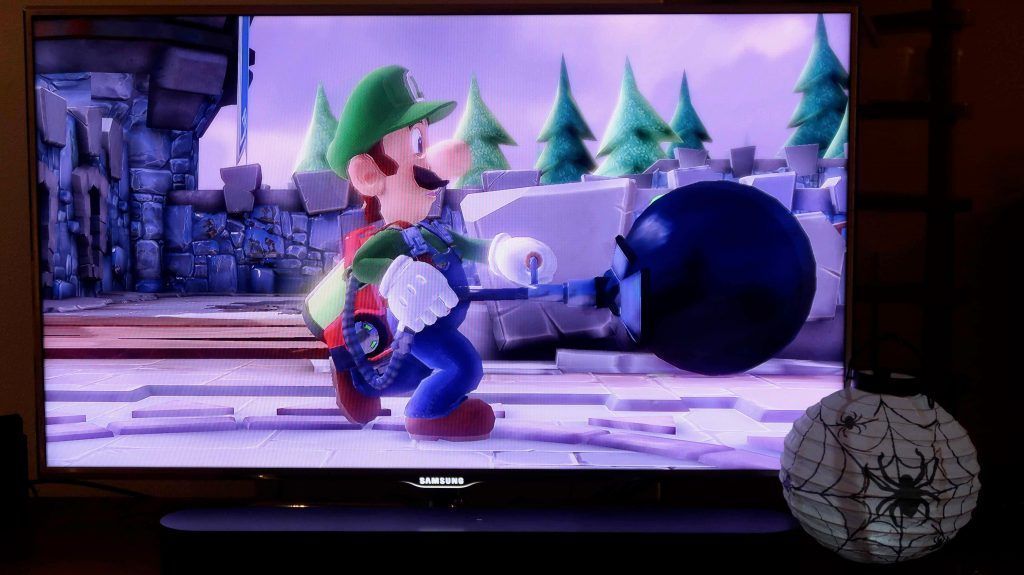 Play together in Luigi's Mansion 3
There is a lot to do in this hotel, but there are also different floors. For example, there is a pirate-style restaurant, a medieval castle and a pyramid! Each floor of the hotel has its own unique theme.
Use the Joy-Con to make your way through floor after floor, solving paranormal puzzles and defeating wanton ghosts along the way.
They play together by both grabbing a Joy-Con controller. It is very nice to overcome the obstacles that Luigi encounters together in this strange hotel. Via the Joy-con, the other person can play Professor K. Wibus: Enable Gooigi.
This slimy green doppelgänger can use its slipperiness to squeeze through narrow passages, walk over spikes, lift heavy objects and overcome all sorts of obstacles. In the game you go looking and if you don't manage to find the right door or go to the right place, you will get a hint on the screen. This is best to search for, think of a lamp in a mirror that you have to remove.
You are not just finished with this Luigi's Mansion 3 Game.
Mini games are hilarious
You can also choose to play minigames in this game. Minigames are always hilarious and lots of laughs. You compete against each other and a little competition is not a bad thing at all.
These mini -games are easy to do and they actually ensure that this game can be played by young and old again.