A peek into the nursery forest room
Secretly I am quite proud of the children's rooms. So I thought it would be fun to take you guys on a peek into the little man's room. The bedrooms in our house have a wall of almost 5 meters high. It was quite a challenge to make something beautiful out of this room and still make it cozy.
The little man's room has become a real forest room. Complete with deer, foxes and even a little squirrel.
A peek into the nursery
I thought it would be nice to give you guys a peek into the nursery. I start today with a look at my son's nursery. He has had this room for a year now and he is, fortunately, still very happy with it.
Me too by the way. It is a nice room where you can sleep and play in. Next week I will share the little girl's room in a blog and who knows what other rooms will follow.
Forest room
Last year I got pregnant with the little girl and that meant we had to move the rooms around. The little guy moved to the guest room and so it was time to choose a theme for a real big boy's room. We chose a forest room, complete with foxes, owls and a moss green color on the wall.
Tree house bed
When the little man was two years old he got a big bed. After much consideration I chose a 'tree house bed' (as he calls it himself) from Zomerzoen. A very cool wooden bed with two mattresses.
For now sir sleeps in the bottom bed but when he grows up he can sleep in the top bed too. Now the top floor is used for reading and hiding. He is still very happy every day with his cool bed.
Details in the room
To not let the scaffolding wood dominate too much I chose a gray locker as closet. The cabinet has a metal tough look but is made of wood. I bought it at the Kindercompagnie.
It's not such a big closet but for now everything still fits in perfectly. Next to the locker cabinet are three boxes for toys and duplo. In the baby's room these were already there for the toys and now they moved with me to the new room. They are three boxes from Xenos which I put on wheels myself. Last year I made lids on them with upholstery so they can now also be used as a bench.
I think they are ideal because that way all the duplo (and clutter) is less noticeable.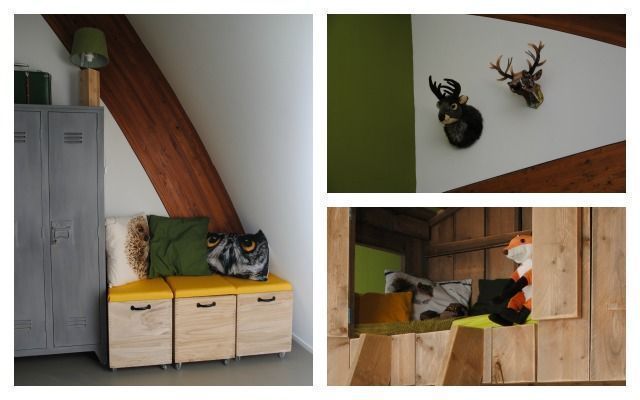 On the playpen and on the bed there are pillows that I got everywhere. I chose pillows with forest animal prints. The owl eyes and the fox are the little man's favorites because they are really cool of course. On the bed there is also a comforter with an owl.
On the high wall there are two deer heads. The fluffy deer is from Action and the mdf deer head is from Miho Design.
To finish it off I bought two more wall stickers last year. Next to the bed I stuck a small squirrel and on a white wall a fox. Both wall stickers are from Kek Amsterdam.
All in all I think it has become a cool room. Little man loves to play there and also proudly shows off his room.
Share your nursery!
Are you proud of your child(ren)'s nursery and would you like to share it? Do you have a special story behind the choice of furnishings? Or have cool items in your nursery? What is your favorite piece of furniture in the nursery?
I am very curious and would love to share your nursery with the readers. This way you can inspire other moms and we might come up with some great ideas. Please send an email for more info or to sign up; [email protected]
What do you think of this forest room? What kind of nursery do your kids have??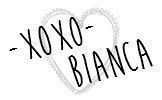 ♥ ♥ ♥ ♥ Fulltime Mama uses affiliate links. This means that if you click on one of the links, we might get a small commission on it. It costs you nothing extra, but it does give us something extra.
With these proceeds we can maintain this website. Also, sometimes we get paid for an article or we get a product in exchange for a blog post. Our opinion remains unchanged and honest. For more information you can read the disclaimer. ♥ ♥ ♥